MV1 TOP-ENTRY BALL VALVES
API 6D - API 6DSS
Established engineered product design, well-known in the industry
Fully in-line repairable whether in vertical or horizontal position; the bolted construction consisting of a single-piece body with a bonnet, allows disassembly on site in-line for inspections and repairs.
After repairs are completed, the valve is re-assembled; to validate the integrity of the repair work, an on-line body cavity line test can be performed to confirm the seats are sealing as required (this test can be done only when the seat design is DIB-1 / DPE).
Manufactured with forged or cast materials in various grades of CS, SS, Duplex and all other high alloys, ensuring this design can meet all our customers material requirements.
Designed and manufactured to withstand external loads from the pipeline to prevent any deformation of the body when the internal parts are fully removed for repairs and new parts are installed.
Finite Element Analysis (FEA) is routinely carried out during the design phase of the body and ball & seat configuration.
Delivery of spare parts from stock up to max.16 weeks.
Engineered products typically having a long lead time delivery of 24 weeks and longer.
Suitable for all industries and applications onshore, offshore and subsea.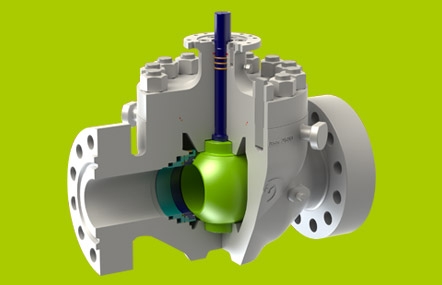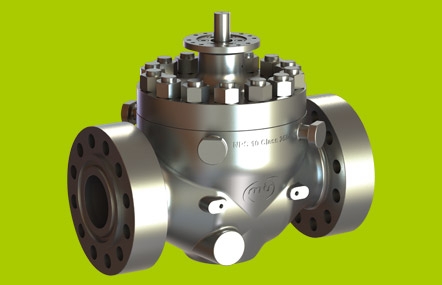 SIZES AND PRESSURE CLASSES
SERVICE
ASME
CL. 150-600
ASME
CL. 900
ASME
CL. 1500
ASME
CL. 2500
STANDARD (ABOVE AND BELOW GROUND)
2"-60"
2"-48"
2"-36"
2"-20"
SUBSEA (API 6DSS)
2"-48"
2"-36"
2"-36"
2"-20"
LOW TEMPERATURE / CRYOGENIC DOWN TO -196°C
2"-24"
2"-24"
2"-20"
2"-12"
HIGH TEMPERATURE < +500°C
2"-20"
2"-16"
2"-12"
2"-8"
Other sizes and classes available upon request
KEY FEATURES AND APPLICATIONS
› FULL AND REDUCED BORE
› API 6D/6DSS
› RF, RTJ, WE, PUP, HUB ENDS
› FIRESAFE
› SOFT AND METAL SEATED DESIGN
› ONSHORE, OFFSHORE, SUBSEA
› ORING AND LIPSEAL DESIGN
› ABOVE GROUND, UNDERGROUND
› SR, DPE, DUAL SEAT DESIGN
› LOW AND HIGH TEMPERATURE
› CS, SS, DUPLEX, SUPERDUPLEX, INCONEL, INCOLOY ALL TYPES
› ESD
› MANUAL AND ACTUATED
› HIPPS
DESIGN FEATURES
API 6D DESIGN AND CONSTRUCTION
STANDARD
DOUBLE BODY BARRIER
STANDARD
FACE-TO-FACE DIMENSIONS TO API 6D
AND ANSI B16.10
STANDARD
TRIPLE STEM BARRIER
STANDARD
INDEPENDENT STEM AND BALL
STANDARD
VENT PLUG
STANDARD
FLOATING SEATS
STANDARD
BLEED VALVE
OPTIONAL
SOFT SEAT INSERT
STANDARD
DRAIN PLUG
STANDARD
PRIMARY METAL – SECONDARY SOFT SEAT
OPTIONAL
STEM INJECTION FITTING
STANDARD
METAL-TO-METAL SEATS
OPTIONAL
SEAT INJECTION FITTING
OPTIONAL
O-RING TYPE SEALS
STANDARD
SEAT POCKET OVERLAY
OPTIONAL
POLYMERIC LIP-SEALS
OPTIONAL
SEAL AREAS OVERLAY
OPTIONAL
SELF-RELIEVING SEATS (SR)
STANDARD
WETTED PARTS OVERLAY
OPTIONAL
DOUBLE ISOLATION AND BLEED (DIB-1)
(DOUBLE PISTON EFFECT) (DPE SEATS)
OPTIONAL
BODY INTERNAL LINING
OPTIONAL
DOUBLE ISOLATION AND BLEED (DIB-2)
(DUAL SEAT) (SR+DPE)
OPTIONAL
EXTENDED STEM FOR UNDERGROUND
INSTALLATION
OPTIONAL
DOUBLE BLOCK & BLEED (DBB)
OPTIONAL
EXTENDED BONNET FOR LOW
OR HIGH TEMPERATURE
OPTIONAL
FULL OR REDUCED BORE
AS REQUESTED
LOCKING DEVICE
OPTIONAL
FLANGED ENDS / WELDED ENDS / HUB ENDS
AS REQUESTED
LIFTING LUGS/VALVE SUPPORT
STANDARD
TRANSITION PUPS FOR WELDED ENDS VALVES
OPTIONAL
MANUAL OR ACTUATED OPERATION
AS REQUESTED
ANTISTATIC DEVICE
STANDARD
FIRESAFE DESIGN
STANDARD
ANTI BLOWOUT STEM
STANDARD
IN-LINE MAINTENANCE
YES
TRUNNION MOUNTED
STANDARD
ON-SITE MAINTENANCE
YES